Weather Watchers Needed for the Community Collaborative Rain, Hail and Snow Network (CoCoRaHS)
Are you interested in the weather and climate of New Mexico? Would you like to contribute to the body of knowledge about weather in your area?  Do you have five minutes a day to devote to observing the weather?
We'd like you to encourage you to join the CoCoRaHS network of precipitation observers. It's a fun and easy way to keep track of  the precipitation falling (or not falling) in your backyard, and it allows you to contribute to a valuable national source of weather information.
What is CoCoRaHS?
CoCoRaHS stands for Community Collaborative, Rain, Hail and Snow network. It is a network of volunteer observers who use inexpensive and simple-to-read rain gauges to measure the precipitation that falls in their backyard or on their land each day. They then enter the information into a website that tracks precipitation across the nation and in parts of Canada. Volunteers are of all ages and backgrounds and only need an interest in weather to join the network. CoCoRaHS is non-profit, community-based and run out of the Colorado Climate Center at Colorado State University. It began in 1998 and expanded into New Mexico in 2005.
The video below explains the origins of CoCoRaHS and shows how easy it is for you to become an observer. With a little bit of training, a rain gauge and internet access, you're on your way.
Who Uses the CoCoRaHS Data?
One of the benefits of the CoCoRaHS network is that the precipitation information collected is available to the public. You can view two types of maps of daily precipitation measurements at the CoCoRaHS website.  These maps are available for all fifty states. You can view the data by state, county or city and look at past precipitation data for reporting stations. The image below shows the two map types that show the measurements for August 5, 2013 for New Mexico.  Each dot represents a reporting station. You can see that there are many stations in the more populous areas of the state so there is a need for more observers in the more sparsely populated counties.  
CoCoRaHS is used by many different individuals and organizations, including the National Weather Service and other meteorologists, hydrologists, emergency managers, city utilities, insurance adjusters, USDA, engineers, mosquito control, outdoor and recreation interests, teachers, students and neighbors in the community.
Learn More
You can learn more about the CoCoRaHS network here.
You can also watch video series below. It was created by former New Mexico state coordinator Leanna DeMouche. These videos will provide you with more information on CoCoRaHS and how to take measurements of precipitation. If you decide to join, you'll be working with the new state coordinator Dave DuBois, from the New Mexico Climate Center out of New Mexico State University.
Interested in Becoming a CoCoRaHS Observer?
The southwestern New Mexico regional coordinator, working out of the El Paso National Weather Service office, has  created a webpage that gives you step by step instructions to sign up for CoCoRaHS. It includes links to training videos and presentations. This page will tell you everything you need to know to sign up and get started. (It also includes resources in Spanish.)
CoCoRaHS has a national coordinator, state coordinators, regional coordinators, and local and county coordinators. When you sign up to be an observer, you will be contacted by the state coordinator and local or county coordinators. They will make sure you receive the proper training and get you started as a volunteer.
The coordinators for New Mexico can be found here.
To go to the New Mexico CoCoRaHS page, click here.
Read the latest New Mexico Newsletter: Summer 2014 Newsletter
For information about CoCoRaHS in Spanish, see this 
brochure (1.1 MB)  or this
poster. (2.9 MB)   
CoCoRaHS Facebook  page.
| | |
| --- | --- |
| Video 1: Introduction to CoCoRaHS  | Video 2: Measuring Rain |
| | |
| Video 3: Hail | Video 4: Snow |
| | |
At the time that this video series was made, there were rain gauges available from the state coordinator. If you sign up now, you may need to purchase your own rain gauge, available here and here . Ask the state coordinator when you sign up.
Today's Precipitation Map from CoCoRaHS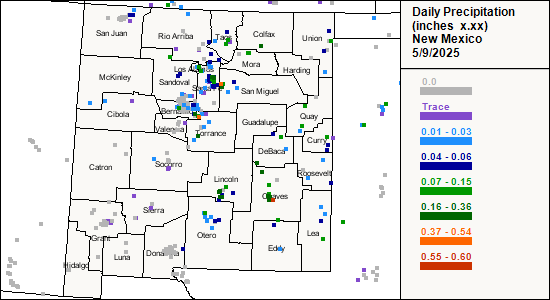 source: cocorahs.org